Anybody who loves crochet then must be a fan of Sophie Digard. I first came across her work on instagram after following a Vintage Haberdashery store - Lucello melbourne
If you care to google Sophie Digard you will be treated to image after image of her wonderful work in the most amazing colour combinations and thread. Below are just a few to tempt.
https://shoekatshoo.wordpress.com/2011/04/09/finally-sophie-digard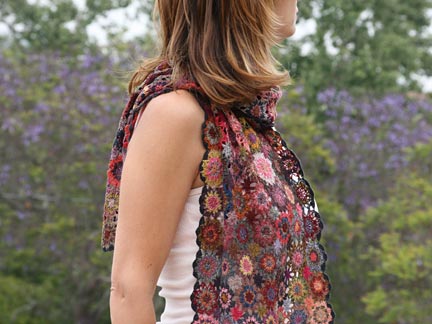 http://grechenscodes.com/tag/sophie-digard/
http://luccello.blogspot.com.au/2011_03_01_archive.html
Anyway being so in love with her work and not having the purse to purchase her product (wish) I thought I would attempt my own interpretation of her inspiring work, The beginnings .... as follows
From one small bloom many grow.
My original thought was to make a scarf but now my thinking is trending towards a bag .... the wool used is perhaps a little too thick for a scarf. Anyway I am enjoying the process and loving the use of colour again!
Happy Easter!